---
HAM OF THE MONTH
My choice for ham of the month is Margaret Brown, KE6FBP. She is President of our club. Margaret helps me in many ways with the newsletter. She also keeps her shop, TELEPAL, open after hours so we can have our Club Meeting there every fourth Wednesday at 7 p.m.. The web page for the club is her responsibility. It is "lookin good"! The links to other ham related information are there as well as some other interesting items. I like it when I call her shop and she says, "This is TELEPAL. How may I improve your day?" Improve my day is what she does by that statement alone. Thanks Margaret for the help and support you give the SHARC Club. 73 From the Editor
---
CLUB INFORMATION
PRESIDENT: Margaret Brown, KF6FBP VICE PRESIDENT: Cliff Banfill KE6VDE TREASURER: Jack Foster, KM6TE SECRETARY: Jerry Wilson, KF6IBP EC FOR THIS AREA: Jack Foster KM6TE MONDAY NIGHT EMERGENCY NET AT 7 PM on the 146.790 repeater system. All amateurs are invited to run the net and check in. We also welcome scenarios. The Club is thinking of giving a year free membership, maybe a nice 2 meter J-pole or some nice prize to the winner of the Net raffle as an incentive to run the net. "So don't be shy and give it a try."
---
CLUB INFORMATION
H.F. NET on Monday night after Emergency Net on 28.400MHz Humboldt Emergency Monday Night H.F. Net: 3.960Mhz (aprox) @ 7:45 PST Listen for KM6TE. Subscription rate: $10 per year Membership: $25 per year Ask about our family rate. We have an Open Phone patch! All donations are cheerfully retained! The calling area for the phone patch is as if one is calling from Garberville, Ca. 95542
DUES AND OTHER CONTRIBUTIONS CAN BE MAILED TO: S.H.A.R.C. PO BOX 701 REDWAY, CA 95560
THE REGULAR CLUB MEETING IS THE FOURTH WEDNESDAY OF THE MONTH AND IS HELD AT TELEPAL IN GARBERVILLE AT 7 PM. (Next to Sentry Market) Sharc Web Page: http://www.sharc-ca.org
---
HAMS IN SERVICE
Submitted by Jack Foster, KM6TE
The Southern Humboldt Amateur Radio club provided communications for the 43rd annual parade in Garberville on June 17th. Since this event only covered about 3 blocks of Garberville, all communications were carried out on a two meter simplex frequency with handheld radios. The hams participating in this event were Jerry, KF6IBP, Nancy, KG6BIL, Ron, KF6IBO, Steve KF6WLH, Jack KM6TE, Dan, KE6NQZ, and Cliff, KE6VDE. Jack and Cliff also helped Dan set up a wireless speaker and PA system that was used to broadcast music before and after the parade. This PA was also used to announce information about the floats in the parade and the winners of the Rodeo Queen contest.
---
FWRA Board Meeting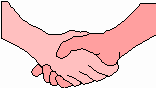 6/20/00
The meeting was called to order by president Bernie Christen at 19:40 hrs. with the following members present: Erwin Mattes, Leland Smith, Jack Foster, Randy Tomer, Robert Loudon and Rich Sweet.
The minutes of the preceding meeting were read and approved.
Treasurers Report: Savings; $317.23 Checking; $1114.00
Erwin reported that all current bills were paid.
Committee Reports: None
Communications: Letter from State Franchise Tax Board. Passed on to the secretary to be studied. We don't think that we have to file because we don't take in enough money.
Old Business: Discussed Pierce/Humboldt Hill link. Rich reported that he had tried to order crystals from Cal Crystal yesterday but that the regular order person wasn't in and the person who answered didn't seem to know much. He will try again next Thursday when the regular person is back.
We will have someone at the Tech Fair to man a booth in the name of FWRA.
New Business: Rich asked for volunteers for the Triathlon for the kids at the Scotia Gym on Saturday. Erwin volunteered and Seth Marks had agreed to help.
Rich reported that FWRA membership now stands at 88, some who are living under the same roof with the person who paid.
As there was no further business to come before the board, the meeting was adjourned at 19:30 hrs.
Respectfully submitted,
Rich Sweet, WB6MYF
---
MINUTES

Southern Humboldt Amateur Radio Club
Minutes of June 28, 2000
President Margaret Brown KE6FBP brought the meeting to order at 1910 Hours
The following members were present: Margaret Brown President KE6FBP, Jack Foster Treasurer KM6TE, Jerry Wilson Secretary KF6IBP, Todd Barton Immediate Past President KF6KBX, Lealand Smith W6CLG, Gladys Smith KD6IBF, Cory Allen KN6ZU, Ron Aronson KF6IBO, and new ham Jay Senfer KG6BFQ
AGENDA accepted as presented
PREVIOUS MINUTES April 26 minutes approved as presented. There was no meeting in May
TREASURER'S REPORT 45 paid up members this is below last year's participation. There is $576.44 in the Equipment Fund and $743.60 in the Savings Account.
COMMITTEE REPORTS Repeaters -146.61 has just been returned to the repeater site after repairs. The 147.330 is still having some intermittent problems. Joe, KA6ROM, is working on solving the problem. Antennas - See New Business
Event Communications SHARC members Jack KM6TE, Todd KF6KBX, Steve KF6WLH, Nancy KG6BIL, Ron, KF6IBO, and Jerry KF6IBP did traffic control for the Garberville Rodeo Parade on June 17.
Disaster Planning Committee - See New Business
OLD BUSINESS. Rain Cost Problem FWRA has dropped out of RAIN and things are on hold. The June issue of RAIN will be sent to current SHARC Members but none will be sent in July or August. Clem, who is the force behind RAIN, is trying to get a better idea of the cost with out FWRA and will report in September. The Secretary is to write a letter to Clem expressing the Club's concerns.
NEW BUSINESS Radio for Xmas Party Prize Jack picked up a 2-Meter Kenwood mobile radio at the Seaside. Question - is the club in favor of offering this as a prize at the Xmas party. A motion by Lealand " The club to reimburse Jack for the cost of the radio and it be a prize at the Xmas party." Second by Cory. Passed unanimously. Disaster Command Post The Disaster Planning Committee has requested that a dual band (2 meter 70 cm) antenna be installed at the Command Post (Garberville County Health Building). The estimated cost is $100 for the antenna. Will the club pay for it and install it? A motion by Jerry "The Treasurer to buy a dual band antenna not to exceed $100 and see to its installation as soon as the Disaster Planning Committee has final approval from the County" Second by Gladys. Passed unanimously. License Tests Jack announced that we are now able to give tests for all classes of licenses and will be scheduling a test session in the next several weeks. Watch the SHARC web site and the Monday night check in for date and place.
DOOR PRIZE Cory won a 2-meter Yagi antenna that Jack had built and donated
ADJOURNMENT 20:06 hours
Respectfully submitted J.R.Wilson KF6IBP, Secretary
---
Why Linux?

Continued From Last Month

Unlike DOS, Linux can run many programs at the same time WITHOUT a desktop multitasking GUI. The function keys (F1-F12) will toggle you from one VT (Virtual Terminal) to the next. So I can start Quake in my F1 vt, Packet on F2 vt, PSK31 on F3, a text editor on F4 and so on. All running at the same time. Oh, then on F5 I can run a text web browser (lynx) and surf the Internet. Linux also supports multiple sound cards and modems! Basically, I would be lost without this built in multitasking support.

I heard Linux never crashes, is this true? No. Ok, I'll expand this answer. I have run Linux on a 486 and now on my Pentium III 450 for about a year now. I am a mean person when it comes to running software. I have crashed Linux Once.

Running windows, I would usually have to reboot 2 or more times in a typical days worth of abuse! Over the Xmas holidays, my brother brought his 486 dx50 laptop here. We loaded up a new kernel and it locked up - we thought.

We had installed an ethernet card and I realized that his computers keyboard and mouse had stopped responding, but from the PC, I was able to telnet into his laptop, stop the keyboard and mouse software and restart it - viola - it WASN'T crashed at all! Yes, Linux is very powerful stuff.

Linux on a floppy? Yup, Linux has been written on a floppy, a single floppy for just basic tools and support. Linux was also re-written to run on old computers of 80286 and even 80186's! These versions are all also free.

What runs on Linux anyway? Good question. Right now, StarOffice 5.1a is what I'm using to write this. I'll save it in "Word for Windows" format to send via e-mail. I'll use my built in e-mail client (program) to send it. Later, if this is added to the newsletter, I'll point my Netscape Navigator web browser to RAIN (www.humboldt1.com/~clem) and read it online! I might be listening to an Audio CD-ROM or MP3's that I have here. I'll use Kxicq to join the good folks that have ICQ running on their systems. Heck, I might be busy playing Id's "Quake" though!

What next? Gosh, too many really Good questions! How about VMware (http://www.vmware.com)! This is a utility for both Linux AND windows 98 (or win2000) users. With it, you can run Linux and start Windows in a window! If you're a windows user, you can start Linux in a window. Why would you want to run windows in a window? Simple, some software developers simply don't write code for Linux, so VMware lets you just Start windows in a window and run that software!

What is a Flavor of Linux? Flavors are different companies or groups. I run Debian (www.debian.org) slink (slink from the movie toy story). The debian group takes the Linux kernel and adds further support and then adds debian'ized programs. They pack it on a CD-ROM (or on the Internet) along with a bootable floppy for users to install it with.

A great new flavor is Mandrake, take a look at http://www.linux-mandrake.com/en/. There is also Red Hat http://www.redhat.com, and this is now the most popular flavor since it was the first to go public (stocks) and start actively advertising. If you want to see a really great list of more packages (flavors), browse http://www.linuxhq.com/dist.html/.

I don't want to lose my windows and other software, so I better not try Linux. OK, this is up to you. But you CAN keep your windows and all the other neat stuff and STILL load Linux. You can download and install Linux in just a small portion of your hard drive (about 200 Megs). If you have a larger hard drive, you can give it a whole Gigabyte and load EVERYTHING including the Desktop GUI. Linux isn't just for the geeks anymore, it's now getting full support from Hardware manufacturers, software developers and now computer vendors. Have fun with it. If you don't like it, delete it! Bill Gates IS still the richest dude around but now Linux lives and it's free to the masses.

Learn more about it, the history, the infighting, the splinter groups at http://www.linux.org.

Did you know that a "hacker" isn't a person committing crime but a person who enjoys writing software? A "Cracker" is someone that breaks into online computers. Hackers are good, crackers are sometimes are not. So why would someone hire a Cracker - think about it.

73

Jaye, ke6sls

e-mail ke6sls@hotmail.com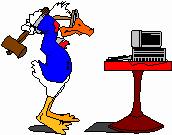 Cory Uninstalling Windows!
---
Can You Think of More?
Irma, KF6FY, and I were discussing all the events that use Amateur Radio Operators to facilitate communications and had to remark on how many events in which we help. Can you think of any others that I missed? Please let me know if I have missed one or two, but the list is long for any area. We should all be pleased with the list:
The Spring Avenue of the Giants Marathon.
The Autumn Avenue of the Giants Marathon.
The Tour of the Unknown Coast Bike Event
The Tish-Tang Bike Race
The Garberville Rodeo
The Kinetic Sculpture Race
The Paddle-to-the-Headwaters Canoe Marathon
The Ruth Lake Bike Challenge
The Fireworks Display in Arcata
The Kiwanis Redwood Harley Run
The Reggae on the River I thank all the "helpful Hams" who take time out of their own lives and become Hams in Service!
---
AN OPINION
This was sent to me by Bob, KF6PRK.
The Author is anonymous.
Just Belong
Are you an active member,
and the kind who would be missed,
or are you just content
that your name is on the list?
Do you attend the meetings
and mingle with the flock,
or do you stay at home
and criticize and knock?
Do you take an active part
to help the work along,
or are you satisfied to be
the kind who "just belongs?"
Do you ever go and visit
a member who is sick
or leave the work to a few
and talk about the clique?
Think this over, member
you know right from wrong.
Are you an active member or do you "just belong?"
---
HAMS IN SERVICE

HAMS GIVE STORM WARNING!

I love it when ham radio and only ham radio saves lives and/or property. This story is about my radio and other equipment being saved by a warning about a specific thunderstorm headed towards my area. As a weather spotter, I tune to NOAA (162.400Mhz) and listen to CDF's Fire Weather Summery (151.250Mhz) every day. Also, I turn in my weather observations to Jim, KA6OQJ, on a daily basis. Jim is our resident guru of weather after spending most of his adult life involved with weather related jobs. The weather predictions were indicating a possibility of powerful, sporadic storm cells in our area, but none were able to give me a where or when. Wanting a more precise warning I called the local Fire Lookouts on the 11 meter network and talked briefly with them to get some idea of where they were seeing "downstrikes". It was about then I heard Mike, KE6VNB, Tom, K6IOG, and Jim KA6OQJ talking on the 146.760 linked repeater system about the weather in their area. Tom, his wife Carol, KD6VZK, and Mike live near the Ruth Lake area. It typically gets the lightening activity before us. Jim had the savvy to pull up the "real-time" RADAR web page and was tracking the activity when I heard my name used by Jim! Jim was predicting a particularly strong Thunderstorm "Cell" was heading west towards my area! After a short conversation to confirm this, I called my local Volunteer Fire Captain, Randy and told him that we had a very short time before we would "be hammered" by this rogue storm-cell. He thanked me. I felt good about the report because I was getting accurate information. It is not often one gets such a warning without feeling like it might be a "chicken little" or "cry wolf" situation. As I started to disconnect my higher antenna farm from the house, I could hear distant thunder for the first time that day. This made me work faster! The temperature was dropping fast.

I had just thrown the three tall antenna coax cables out the port in the wall and Julie, KF6RLR, was pulling them away from the house when the sky lit up brighter than day! Then BANG! I was thankful to just have a few more inside connections to disconnect and shut off the cellular phone. Also, I was very thankful that Julie didn't become a "Human Grounding Rod" for that strike! Thirty seconds later I was outside shutting off the generator as lightning can travel throughout an entire AC or DC system if the strike is just close. By that time the storm was on top of us and we were as well prepared as we could be for such an event. We had about a 12 minute warning and that was enough to prepare. The next half hour was intense to say the least. We had heavy rain then 1/4 inch hail as I set up my "Rubber Ducky" antenna farm in the house so I could still monitor Fire and Ham frequencies. When all was safe again I got a call from my area's fire captain commenting that I was so accurate he was amazed! It was pouring rain and I told him on my handheld that it was thanks to the diligent hams that I had any idea there was a fast moving storm coming our way. It was a thrill to have been able to give such a warning to the community all because of

"Hams in Service"! Your Grateful Editor,

Cory, KN6ZU
---
SPACE NEWS
I saw the launch of the Russian section of the ISS and was pleased! It won't be too long before the ham gear will be up and running, relatively speaking.
---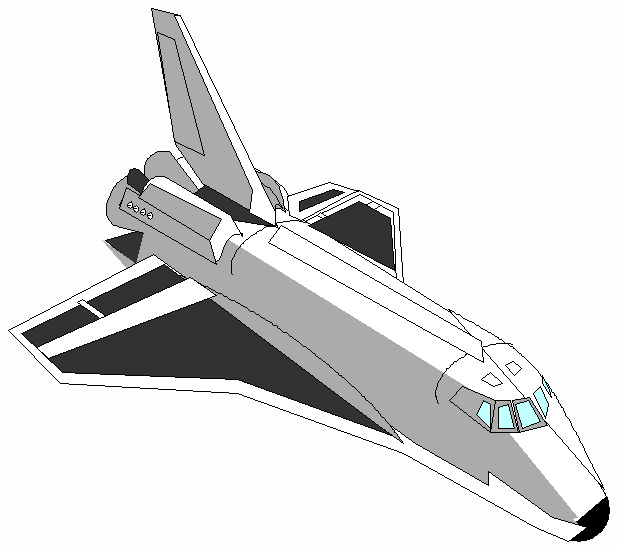 PLEASE SUPPORT OUR ADVERTISERS

S.H.A.R.C. Southern Humboldt Amateur Radio Club P. O. Box 701 Redway, CA 95560